Russell Jarrett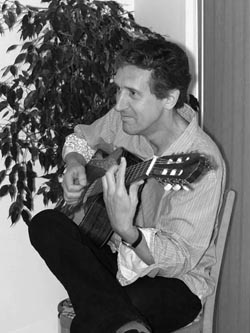 Russell has worked professionally in music for many years, as both a performing artist and a guitar teacher. He has lived in Belgium, Canada and the UK, working in a wide range of formats and styles – solo, duos and bands of all shapes and sizes, as both leader and sideman. In Brussels he worked for several years with Italian singer/songwriter Max Gazze, and in Canada he performed and recorded with his brother Simon (founder of Kingsley Amplifiers) as the Jarrett Brothers, resulting in the 2 CDs Nylon & Steel and Acousticity. He currently also performs with Mark Etherton's Spanish guitar project The Latin Tree and funk band Jafuso Blue. Russell has taught guitar throughout his career and is an established guitar teacher in the Guildford area, working both within schools and as a private tutor. He studied at Berklee College of Music in the US and holds a licentiate diploma from Trinity College London (L.T.C.L.) in classical guitar. He has also written music for radio and television commercials.
Simon Taylor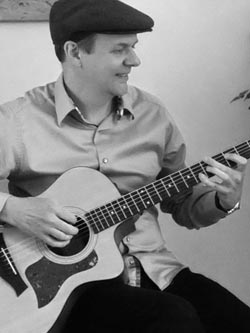 He took up guitar at the age of 15 having studied classical violin since the age of 7. Self taught, he learned varied styles of guitar, and during the late 80's and early 90's composed music for non-commercial purposes. His playful and dynamic style has a wide range of influences from Django Reinhardt, through contemporary jazz, blues, rock, soul and folk.
Simon also plays with caribbean function band PapaMengo, and has performed many times with ex Jaco Pastorius and Sting sax man, Butch Thomas, drumming legends Richard Bailey and Tony Mason. He recorded a fusion album nooks and crannies in the early 1990's with pianist Mark Edwards, bassist Thad Kelly, drummer Tim Goodyer and saxophonist Ronnie Asprey. Rumour has it he once played with Ben Castle, and whilst even Ben thinks they did indeed once play together, Simon has no recollection! Simon has a website dedicated to his playing and teaching.
Selected Testimonials
..the response was very positive from our customers. Your music was lovely to listen while dining in the restaurant and I know that those just stopping for a drink mentioned what great talent.
Lindsey, RED, Weybridge
Russell and Simon played at my wifes 60th birthday celebration, and made it an evening to remember with their wonderful music. They were accomodating in our request for lively repertoire choice, which provided a happy and vibrant ambience. They are a pleasure to deal with, professional and I would have no hesitation in recommending them or any occasion or event.
John Young